While there are many pairings we love, wine and cheese truly is the ultimate match. Yet with such a vast array of cheeses produced around the world and even more styles of wine, creating the perfect wine and cheese pairing isn't always easy. Thankfully, once you understand a few basic wine pairing principles and learn a bit about the world's most popular types of cheese, the process becomes a lot simpler. Plus, you can have more fun creating mouthwatering pairings.
Wine Pairing Rules to Remember
When it comes to successfully matching wine with food, the trick is considering the main characteristics of the dish at hand in terms of salt, fat, and acid. Salt in food can help soften wine's harsher elements, like aggressive tannins or sharp acidity, and boost the perception of a wine's body on the palate.
Oily foods, or those higher in fats, are a great match for more tannic, bold wines because the fats counteract the hefty tannins. Alternatively, you can opt for a high acid wine, which will give the effect of cleansing the palate from the richness of the food.
Another good rule of thumb is to always match the intensity of the wine with the flavor intensity of the food. For example, if you're serving a cheese that's lighter in flavor, avoid pairing it with an intense wine that will completely overpower the taste of the cheese. Additionally, always remember that spicy or bitter foods will completely clash with highly tannic wines.
Wine and Cheese: What Wines to Pair with the 8 Main Cheeses
Here are the main types of cheese you're most likely to encounter, along with which wines will make the most delicious pairings.
Fresh Cheeses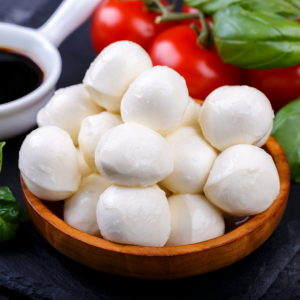 Fresh cheeses come in a variety of textures and flavors, which always makes for a fun wine pairing experience. These cheeses can be soft and creamy like burrata, or have a more crumbly texture like feta. Most fresh cheeses have significant acidity and range from lightly to heavily salted.
Since fresh cheeses are generally saltier, they are fantastic pairings for high acid wines, like sparkling wines, light-bodied whites, rosés, or fruit forward light-bodied reds. Those salty flavors help the fruit aromas and flavors in these wines to shine. The wine's crisp acidity is also a great balance to the creaminess of fresh cheeses.
Types of fresh cheese: cream cheese, Chèvre, ricotta, mozzarella, Mozzarella di Bufala, burrata, feta, cottage cheese, Marscapone, Boursin
Wines to try: Cava, Crémant de Bourgogne, Albariño, Pinot Girgio, Assyrtiko, Riesling, Provençal rosé, rosé of Nerello Mascalese, Beaujolais, Pinot Noir
Semi-Soft Cheese
Generally, this category of cheese has a creamy texture when young, which becomes more dense with age. Depending on the cheese, flavors range from buttery and nutty to sweet and tangy or more mild.
For nutty, buttery cheeses like Asiago or Havarti, pair with an oaked white wine with toasted flavors and perhaps creamy flavors from malolactic fermentation. Otherwise, a light-bodied white wine or medium-bodied red wine has the acidity to match younger semi-soft cheeses, along with fresh fruit notes to complement the tangy flavors.
Types of semi-soft cheese: Havarti, Asiago, Fontina, Monterey Jack
Wines to try: Arneis, Verdicchio, Chardonnay, Condrieu, Roussanne, Carignan, Montepulciano d'Abruzzo, Cabernet Franc
Soft-Ripened Cheese
These cheeses are made with the help of an edible mold called Penicillium Candidum. They typically have a soft, velvety white rind and the center of the cheese becomes creamier with age. Along with their trademark decadent texture, soft-ripened cheeses usually have nutty, earthy, buttery, and tangy flavors.
For the best wine and cheese pairing, reach for a sparkling wine, light-bodied aromatic whites, or light-bodied red wines, as these tend to have higher acidity which makes for a tantalizing contrast to the creamy cheese. Otherwise, grab a full-bodied white wine with enough weight to match the richness of the cheese.
Types of soft-ripened cheese: Brie, Camembert, Époisses, Humboldt Fog
Wines to try: Champagne, Franciacorta, Chenin Blanc, Sauvignon Blanc, Riesling, Chardonnay, Marsanne, Pinot Noir, Schiava
Surface Ripened Cheese
Surface ripened cheeses usually have an oozy center with a thin rind or firm center with a more wrinkled rind, such as French goat cheese. These cheeses have a dense creamy texture with earthy or sharp tangy flavors.
Light-bodied white wines or aromatic white wines highlight the earthy flavors of surface ripened cheeses. They also offer a pleasant contrast to the dense texture of the cheese. For a red option, try any light-bodied red with spicy or earthy aromas for the same effect.
Types of surface ripened cheese: Crottin de Chavignol, Vermont Creamery's Bijou, St. Marcellin, Brillat Savarin
Wines to try: Sauvignon Blanc, Torrontés, Gewürtztraminer, Riesling, Cinsault, Counoise, Gamay
Semi-Hard Cheese
The semi-hard cheeses category includes a multitude of firm cheeses with high moisture. They usually have savory, salty, nutty flavors which become more elegant with age.
The salty flavors of semi-hard cheeses ideally enhance the fruit notes in light-bodied whites and sparkling wines. Firmer, more boldly flavored cheeses are a great match for full-bodied white wines or medium-bodied reds with the structure to match.
Types of semi-hard cheese: Gouda, Gruyère, Swiss, Emmental, Colby, Provolone
Wines to try: Cava, Champagne, Silvaner, Chenin Blanc, Pinot Gris, Chardonnay, Viognier, Beaujolais, Merlot, Carménére
Hard Cheese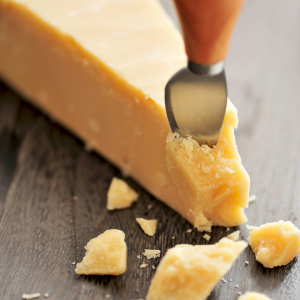 These cheeses get saltier and nuttier with age. Hard cheeses are more difficult to cut and easily crumble because they have lower moisture content.
The saltiness of hard cheeses pairs well with high acid sparkling and light-bodied white wines. Full-bodied reds also make a delicious wine and cheese pairing. The salt elevates the fruit notes in all of these wines and softens the bold tannins of a full-bodied red.
Types of hard cheese: Cheddar, aged Manchego, Parmigiano-Reggiano, Pecorino Romano, Grana Padano
Wines to try: Franciacorta, Champagne, Cava, Vermentino, Cortese, Barolo (Nebbiolo), Brunello di Montalcino (Sangiovese), Cabernet Sauvignon, Syrah, Nero D'Avola
Blue Cheese
Blue cheeses vary in texture and flavor, though they are all characterized by blue streaks of mold throughout. They can be soft and creamy or firm and crumbly. Additionally, most blue cheese has tangy flavors ranging from sweet to piquant.
The intensity of blue cheese's flavors must be considered when selecting a wine match. Full-bodied reds are powerful enough to shine alongside the strong flavors of blue cheese. Conversely, fruit forward or sweet wines offer a great counterpoint to the saltiness and pungent flavors of the cheese.
Types of blue cheese: Roquefort, Stilton, Gorgonzola, Cabrales
Wines to try: Pinot Gris, Riesling, Sémillon, Gewürztraminer, Zinfandel, Red Bordeaux, Tawny Port, Sauternes
Washed Rind Cheeses
Washed rind cheeses are made by washing pressed cheese curds with brine or brandy. You either love or hate these cheeses, as they tend to be very stinky.
Since they are so pungent, washed rind cheeses don't make good wine and cheese pairings. Save these for your Belgian beers and IPAs.
Types of washed rind cheese: Taleggio, Appenzeller, Limburger