Located approximately 160km northeast of Tunisia, Sicily is one of the largest islands in the Mediterranean Sea. Thanks to its strategic position close to Africa and as a gateway to Western Europe, the island had quite a tumultuous history. Sicily was ruled by the Phoenicians, Greeks, Sicilians, Carthagians, Romans, Normans, and Spaniards before its unification with Italy. Notably, the Greeks brought modern viticultural techniques and new grape varieties to Sicily. However, winemaking on the island dates to 4,000 B.C. before the Greeks showed up.  Today, Sicilian wine is as diverse as Sicily's multicultural history.
Sicilian Wine
Sicily is one of Italy's largest wine producing regions. In the past, the island was known for bulk wine production. Producers favored high yields over high quality and much of Sicily's fruit was sold to other Italian wine regions. Thankfully, in the 1980's Sicilian wine experienced a revival led by the likes of Tasca D'Almerita, Planeta, Marco de Bartoli, Corvo, COS, and Donnafugata. These producers began restricting yields and elevating indigenous varieties to focus on premium Sicilian wine production. Soon enough, other producers followed suit. Today, Sicilian wines are some of the most exciting, inspiring wines coming out of Europe.
Moreover, Sicily is a leader in ecological winemaking and viticulture. Since 2010, both Tasca D'Almerita and Planeta have pioneered the SOStain movement on the island. Sicily's SOStain Foundation is an environmental challenge to promote ethical and sustainable development in the Sicilian wine sector. Both the Consortium for the Protection of Sicilian DOC Wines and Assovini Sicilia promote these sustainability efforts. Regulations for the program cover a winery's water footprint, carbon footprint, bottle weight controls, the preservation of animal and plant biodiversity, and more. As other producers have joined SOStain over the years, Sicily is now an ecological leader in the wine industry worldwide.
Climate and Terroir in Sicily
The island encompasses 25,460 km² of varied terrain and exhibits a Mediterranean climate with hot summers and mild, rainy winters. Viticulturists have a wide range of elevations and expositions to work with. For example, the ever-daunting, active Mount Etna in the east reaches elevations of 3,350 meters. While the Sicilian Apennines extend from the mainland Calabrian Apennines and isolated massifs are found throughout central and western Sicily. In total, around 61% of Sicilian terrain is hilly, 26% is mountainous, and the remaining 14% of land is flat. Consequently, producers can successfully make a wide range of Sicilian wines thanks to the multitude of elevations, soils, and microclimates available. These factors also mean Sicilian harvests often last over a three-month period.
Sicilian Red Grape Varieties
For red Sicilian wine, there are three main indigenous varieties which helped launch the island to fame: Nero d'Avola, Nerello Mascalese, and Frappato. Other native red grapes like Perricone, Nerello Cappuccio, and Nocera often play a supporting role in blends, but nonetheless are not to be missed. Additionally, Sicilian winemakers have found success with international varieties, such as Syrah, Cabernet Sauvignon, Merlot, and Cabernet Franc. Experimental plantings of Pinot Noir are also on the rise around Mount Etna.
Nerello Mascalese
Nerello Mascalese grows predominantly around Mount Etna and is one of the main grapes in Etna Rosso DOC wines. This variety produces light-bodied red wines exploding with red fruit flavors like wild strawberry and sweet cherry. You'll find cinnamon and other notes of exotic spices in Nerello Mascalese wines. Due to its cultivation on the volcanic soils of Mount Etna, wines of this variety are also characterized by tantalizing acidity and volcanic, earthy minerality. For delectable red and rosato Nerello Mascalese wines, look to Di Giovanna Winery with vineyards in the provinces of Agrigento and Palermo.
Nero d'Avola
In terms of vineyard plantings, Nero d'Avola is Sicily's most significant red variety claiming 16.23% of the island's vineyards. First introduced by the ancient Greeks, Nero d'Avola grows throughout Sicily today. Though its ideal growing conditions are found in Noto and Pachino where the grapes thrive in a dry climate mitigated by sea breezes. Nero d'Avola is quite sensitive to mold, so such well-ventilated conditions are ideal.
Wines made from this variety are characterized by a dark ruby color, juicy black cherry aromas, plus spice, chocolate, and tobacco flavors. With medium to high tannins, alcohol, and body, Nero D'Avola is known for its robust style. If you enjoy Cabernet Sauvignon, then Nero D'Avola is a wine you'll likely love. Corvo is a great place to start, as the winery's Duca Enrico wine helped put Nero D'Avola on the map.
Frappato
Typically, Frappato is used as a blending variety with Nero D'Avola in the Cerasuolo di Vittoria DOCG. However, single-varietal Frappato wines are now on the rise. Located in Vittoria near the southeastern tip of the island, COS makes exceptional single-varietal and Cersauolo di Vittoria DOCG wines made with Frappato. In fact, Sicily's southeastern region is where Frappato thrives.
Wines made from 100% Frappato have a brilliant ruby violet color with red berry and violet aromas. They're light-bodied with medium acidity, alcohol, and low tannin, which is why it's frequently blended with Nero D'Avola for increased complexity.
Perricone
Perricone mainly grows in western Sicily where it makes strong, full-bodied wines. They are typically dark ruby color with purple hues. Expect notes of brambly blackberry fruit and a peppery earthiness. Perricone wines are always significantly structured with velvety tannins, luxurious fruit notes, and high alcohol.
Nerello Cappucio
Nerello Cappucio is a variety which enjoys elevation, as it's planted around Mount Etna and the mountains south of Messina. The grape has always played a supporting role to Nerello Mascalsese in Etna Rosso DOC wines and is also used in Faro DOC blends. Producers are just beginning to explore the variety's potential for single-varietal wines. While not yet known for making complex Sicilian wine, Nerello Cappucio produces inviting, silky wines with notable breadth on the palate. Typically, the wines feature wild berry, cherry, violet, and dried herb aromas.
Nocera
One of Sicily's more rare red varieties, Nocera is a blending variety found in Mamertino DOC wines with Nero D'Avola. It's also blended with Nerello Mascalese and Nerello Cappucio to make Faro DOC wines. This Sicilian variety has thick skins and therefore makes quite tannic wines with hefty structure and weight on the palate. Nocera wines frequently have high alcohol with elegant dark black fruit, spice, and leather aromas.
Sicilian White Grape Varieties
White Sicilian wine is produced in a range of styles throughout the island. Yet Sicily's most sensational wines are made from native varieties, such as Catarratto, Carricante, Grillo, and Inzolia. Malvasia Bianca, Zibbibo (Moscato Bianco/Muscat of Alexandria), and other international varieties like Chardonnay, Fiano, Müller-Thurgau, Grecanico Bianco, and Sauvignon Blanc also make fantastic Sicilian wines.
Catarratto
One of Sicily's most planted varieties of either color, Catarratto claims around one third of all vineyard plantings on the island. The grape has seven different biotypes, but the main ones are Catarratto Bianco, Catarratto Bianco Commune, and Catarratto Bianco Lucido. Genetically, the grapes are identical, through their morphologic characteristics differ. Along with Zibibbo, Catarratto is a parent grape to Grillo, another popular white Sicilian variety. Plus, current research suggests Catarratto descended from Garganega, another white Italian variety used to make Soave wines in the Veneto.
Catarratto is used in several DOC wines, including Etna Bianco DOC and Marsala DOC. The variety makes energetic, vibrant white wines bursting with aromas of citrus, tropical grapefruit, salinity, and orange blossoms. They're typically medium-bodied with fresh acidity, though Catarratto from Mount Etna will be especially mineral driven with elevated acidity.
Carricante
For another distinctive white Sicilian wine, look to Carricante. This variety thrives at higher elevation vineyards around Mount Etna reaching 3,000 to 3,500 meters above sea level. Carricante wines generally feature elevated acidity, which makes them great for aging. Expect zesty flavors of lemon-lime citrus, green fruit, and herbal aromas like mint and anise. This is one of the main varieties used in Etna Bianco DOC wines, though many producers make delicious single-varietal Carricante wines as well. Check out Planeta and Azienda Agricola Cortese for exceptional examples, the latter of which also produces outstanding Catarratto, too.
Grillo
Grillo grows throughout western Sicily where it's also known as Riddu or Rossese Bianco. It was once an integral variety used in Marsala wines thanks to its high sugar content, making it ideal for fortified wines. Grillo is produced in a variety of styles, ranging from light to full-bodied and dry to lusciously sweet. Wines made from this grape express lemon citrus flavors, along with notes of melon, white peach, white flowers, and herbs. Richer styles highlight Grillo's lemon cream flavors. This grape frequently makes single varietal wines, though it's also often blended with Catarratto, Chardonnay, and Inzolia under the Sicilia DOC label. Look to Donnafugata or Di Giovanna for high quality wines made from Grillo.
Inzolia
Inzolia, or Insolia, is one of the oldest and most widely planted grapes in Sicily. It's a vigorous variety which contributes to the production of many white wines in several DOCs and IGT designations. As a single varietal wine, it shows a straw-yellow color with green reflections in the glass. On its own, Inzolia can be a bit neutral in flavor with notes of yellow apple and apricot. Though it has a savory palate with significant alcohol content and balanced acidity.
Sicilian Wine Regions
Sicily is home to 23 DOC (Denominazioni di Origina Controllata) zones including:
From these designations, Sicilia DOC, Etna DOC, and Marsala DOC are probably the best known. However, it's worth exploring them all to experience the full range of the island's diverse wines.
Sicilia DOC
The Sicilia DOC is a broad, island-wide appellation which allows producers the most creative flexibility. Established in 2011, a consortium of wine producers launched the appellation to promote Sicilian wine made with native varieties like Grillo, Catarratto, Frappato, Nero D'Avola, etc. Originally, it was an IGT designation which the producers campaigned to upgrade.
The appellation covers white, red, rosato, sparkling, and dessert wines.
Potential white varieties: Inzolia, Catarratto, Carricante, Chardonnay, Damaschino, Fiano, Grecanico Dorato, Grillo, Moscato, Müller-Thurgau, Pinot Grigio, Sauvignon Blanc, Vermentino, Viognier, Zibibbo
Potential red varieties: Alicante, Cabernet Franc, Cabernet Sauvignon, Carignano, Frappato, Merlot, Mondeuse, Nerello Capuccio, Nerello Mascalese, Nero D'Avola, Nocera, Perricone, Petit Verdot, Pinot Nero, Sangiovese, Syrah.
Generally, for a wine to be varietally labelled it must be made from at least 85% of the indicated variety. The remaining 15% must come from other accepted varieties in the designation listed above. Explore other production rules here.
Etna DOC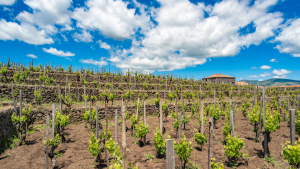 As the name suggests, this designation encompasses the area around "Mamma Etna" whose fertile soils produce a bounty of green pistachios, vibrant strawberries, and outstanding wines. Etna has received more attention than any other Sicilian wine region in recent years thanks to the zone's varied elevations and volcanic soils. The latter of which imparts particular characteristics like minerality, salinity, and zippy acidity to Etna DOC wines. Unlike other areas on this Mediterranean island, Etna has an almost alpine climate thanks to high elevations. This zone also receives a ton of sunlight, as well as significantly more rainfall than anywhere else in Sicily.
Founded in 1968, the Etna DOC covers white, rosato, red, and sparkling wines. Carricante is the main white grape variety, while Nerello Mascalese is the main red grape used.
Etna Bianco: minimum 60% Carricante, maximum 40% Catarratto, maximum 15% Trebbiano, Minella Bianca.
Etna Bianco Superiore: minimum 80% Carricante, maximum 20% Catarratto, Trebbiano, Minella Bianca.
Etna Rosato, Etna Rosso, Etna Rosso Riserva: minimum 80% Nerello Mascalese, maximum 20% Nerello Cappucio or 10% other local varieties
Etna Spumante: minimum 60% Nerelo Mascalese + other approved local varieties.
For further production regulations on Etna DOC, click here.
Marsala DOC
Named for the city of Marsala in the southwest corner of Sicily, Marsala DOC has varied in quality over the years. Fortunately, this appellation has bounced back to prominence and currently produces fantastic fortified wines. While Catarratto and Inzolia were once the main grapes used, today the more elegant Grillo is often favored. Seven grapes are permitted in Marsala production in total.
Potential white grapes: Inzolia, Catarratto, Damaschino, Grillo.
Potential red grapes: Nerello Mascalese, Nero D'Avola, Perricone.
Like Sherry, Marsala wines are made using the solera system. However, not all Marsala wines are overly sweet or see extensive aging. In fact, the Marsala DOC has five aging categories:
Fine – 1 year, including 8 months in barrel
Superiore – 2 years, including 20 months in barrel
Superiore Riserva – 4 years, including 44 months in barrel
Vergine/Solera – 5 years, including 56 months in barrel
Vergine/Solera Stravecchio – 10 years, including 166 months in barrel
Additionally, color classifications are designated as oro (gold), ambra (amber), and rubino (ruby). While sweetness levels include:
Secco – dry; maximum 40 g/L of residual sugar
Semisecco – semi-sweet 40-100 g/L of residual sugar
Dolce – sweet; more than 100 g/L of residual sugar
For more on the Marsala DOC regulations, click here.
Cerasuolo di Vittoria DOCG
As the only Denominazioni di Origine Controllata e Garantita in Sicily, the Cerasuolo di Vittoria DOCG was established in 2005. Previously, Cerasuolo di Vittoria was a DOC originally created in 1973. It solely encompasses red wine production since Vittoria in southeastern Sicily is prime real estate for red grape growing. Here elevations are lower and temperatures are generally higher, so red Sicilian wine grapes thrive.
Only Nero D'Avola (50-70%) and Frappato (30-50%) are permitted in the wines of the Cerasuolo di Vittoria DOCG. All wines must reach a minimum 12.5% abv and must be aged for a minimum of 8 months, or 18 months if designated Classico.