If you're a white wine lover, and even if you're not, chances are you've tasted Pinot Grigio or Pinot Gris at some point in your wine drinking life. Perhaps as an easy sipping, fresh white wine for a summer afternoon by the pool or perhaps something more memorable and robust. So, when it comes to Pinot Gris vs Pinot Grigio, what's the difference? In short, nothing and everything all at once.
Surprise! They're Actually the Same….but Different.
Stylistically speaking, Pinot Gris and Pinot Grigio are worlds apart. Yet they are actually the same grape variety named differently depending on the country of cultivation. In France, this grape is called Pinot Gris. While in Italy, the variety is known as Pinot Grigio.
Gris is the French word for grey, as grigio is grey in Italian. This color indication likely refers to the greyish-purple skin of the variety. As a mutation of the black variety Pinot Noir, Pinot Gris skins contain less anthocyanins than those of Pinot Noir. Hence, the greyish hue.
There is also a third mutation called Pinot Blanc in which Pinot Noir's anthocyanins are inactive. As a result, the grape skins are lightly colored like other white grape varieties.
Pinot Gris/Grigio has an early bud break in the spring and ripens early, too. Therefore, in warm regions it accumulates high sugars and loses acidity if left on the vine too long. This can result in overly sweet, unbalanced wines
What's the Difference Between Pinot Gris vs Pinot Grigio?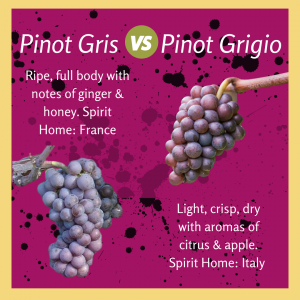 Pinot Gris – France
This variety is from Alsace, France and the highest quality Pinot Gris wines are still made here today. Alsatian Pinot Gris tends to be dry or off-dry with ripe flavors of tropical fruits, plus notes of ginger and honey. These wines are more full-bodied with an oily texture. So, not your average poolside sipper.
Additionally, the darker grape skins lend themselves to a more golden color in the final wine. Try pairing Pinot Gris with generously flavored mountain cheeses like Comté or Gruyère, seared scallops with beurre blanc sauce, or a creamy mushroom risotto. Off-dry versions are especially delicious with spicy Asian or Indian dishes like chicken tikka masala or Thai green curry.
Pinot Grigio – Italy
Located in north-east Italy, Trentino-Alto Adige and Friuli-Venezia Giulia both produce the highest quality Italian Pinot Grigio. These regions offer more depth of flavor than the cheaper versions of Pinot Grigio made throughout the Veneto plain. Partly due to the high altitudes and cooler temperatures that help to lengthen the ripening process and preserve acidity in the grapes as they develop flavors. Also, the Pinot Grigio grape clone used in these regions has smaller berries, thus more concentrated flavors.
With Italian Pinot Grigio, you can expect a lighter, crisp, dry style with flavors of citrus and green apple. Typical Italian antipasti, seafood salad, light pasta dishes with clams or prawns, and even sushi pair fantastically with Pinot Grigio.
Wine Shopping Tips
While Pinot Grigio is produced for immediate consumption, some Pinot Gris develop well with age. You'll also find delicious sweet, late harvest Pinot Gris wines.
For the highest quality Pinot Gris and Pinot Grigio respectively, you'll want to shop for wines from the previously mentioned regions. The Veneto produces a simpler, more neutral Pinot Grigio due to higher yields and earlier harvests. For particularly spectacular Italian Pinot Grigio, seek out wines from Collio in Friuli. These are especially lively and zesty with a subtle blossom scent.
You'll also find Pinot Gris/Grigio produced around the world in new world countries like the USA, Australia, and New Zealand. If shopping for these wines outside of France and Italy, remember the wine is usually labeled Pinot Gris or Pinot Grigio to indicate which country's style it emulates.
Also, keep in mind more expensive Pinot Gris/Grigio wines have likely been oak aged for more structure. These will have more enriched fruit notes, but less of that refreshing citrus.