Like most of Europe, restaurants in Santorini serve a house a white wine made from the most prominent local grape. Ask any waiter what the wine is and he's sure to simply reply, "It's a Greek wine." Ask about the grape and he will tell you it's "a good one." However, in Greece you can bet your Euros it's the prized Assyrtiko grape.
Although it's considered a noble grape throughout Greece, Assyrtiko performs best in Santorini. This Greek white wine is fresh and dry with a smoky minerality on the finish. A glass of Assyrtiko from a good producer pairs seamlessly with the local Mediterranean herbs and fresh seafood. In addition to producing world-renowned Greek wines, Santorini is also a popular destination for honeymooners and wanderlusters. Travelers visit by the thousands to catch a glimpse of the Mediterranean sunset over the the white walled caldera. Most tourists don't realize the island even makes wine. In fact, Santorini wines are among the best Greece has to offer.
During my stay, I took the long and breathtaking hike from Imerovigli to Paris Sigalas in Oia. Even in April, I was very thirsty and sunburnt at the end of the 2-hour journey. Salty wind dusted my face and lips. The vines live in these conditions, struggling through the ashy soils and dry conditions. The resulting wine is pure, mineral and refreshing. It's a tonic to tourists equally alluring as the scenery.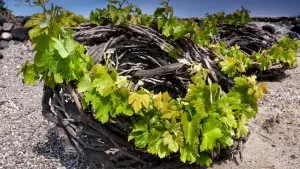 Climate & Viticulture
Santorini was once an active volcano. Consequently, this Greek island is covered in ashy soils from an eruption that occurred over 3,600 years ago. This massive explosion also split the island into a crescent moon shape with its current archipelago. The island has a Mediterranean climate with extremely low rainfall. In addition to the intense heat during the growing season and overall lack of rainfall, strong winds are also a concern. Viticulturists use a vine training method called kouloura in which they resemble giant wreaths. This unique vine training method was developed to protect the grapes from harsh winds which sweep the island. Irrigation is not utilized, so grapes depend on this method of vine-training to collect sea mist and morning dew for hydration. For steeper vineyards, growers rely on stone terraces called 'pezoules' to avoid drainage. 
The age of the vines tend to be extremely old, as the volcanic soils have prevented phylloxera from entering the island. Some of the original rootstock dates back 125 years which greatly affects the yields. In general, the yields are about 25 tons/hectare. Compare this to Bordeaux, which averages 50 tons/hectare! Although the Santorini PDO encomposses the entire island, the Western side of the island tends to reserve land for tourism, which is in strong demand (and price). Perhaps more than the threat of dry and windy conditions, Santorini wine's biggest threat may be the price of real estate.
Grapes & Styles
Good growers make the most of these miniscule yields, producing full-bodied, mineral, and focused wines from the Assyrtiko grape. High-acid Athiri and fruity Aidani are often blended with Assyrtiko, too. The typical style is young and citrus-scented with a smoky minerality on the finish. Occasionally you will find an oak-aged version called Nychteri, which is roughly translated to "working the night away."  This harvested at night to avoid heat and aerobic extraction. Santorini also makes a Vinsanto, alt
hough it's rare to find outside of the island. The grapes are made in a passito style similar to the influencing Vin Santo in Tuscany. They are partially dried before pressing, which creates a sweet and concentrated wine with nutty aromas.
Red wines are uncommon, but Paris Sigalas makes a blend of Mandilaria and Mavrotragano labeled "M/M." However, if labeled "Santorini PDO," the wine must be white and composed of at least 75% Assyrtiko.  
Producers
Paris Sigalas may be argued as the most influential producer, especially for organic wines.  Founded in 1994 in a repurposed tomato factory, Gaia is also leading for quality, in particular with their superior dry white, 'Thalassitis.' Boutari is the biggest producer. The boutique winery Hatzidakis makes small quantities of high-quality wine, if you can find it. -AT